How to Stream iTunes Movie via Plex Media Server
---"I can't play video in iPad/iPhone/iMac with Plex"
---"I have a collection of purchased movies. Does Plex support iTunes videos?"
---"I am trying to play iTunes purchased movies. When trying to play one of them it almost looks as if it is caching the movie. But won't play it. Any ideas?"
Spent a whole day on streaming iTunes movies via Plex Media Server, but in vain? You need to know that Plex Media Server is unable to play iTunes movies. Before streaming your iTunes movies from computer to TV, tablets and all your mobile devices at home, you will need to convert the movies with a powerful converter like with M4VGear.  
M4VGear Converter helps you convert iTunes purchases and rentals at 20X fast speed, keeping the video quality same as original. By using M4VGear Converter , you can seamlessly stream HD iTunes movies via Plex and watch your own movies conveniently on every devices in your house. What's more, you can keep your iTunes rental forever and backup iTunes movies for convenient access.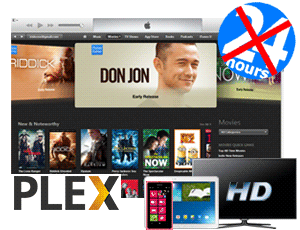 M4VGear Converter Features:
✔ Convert both iTunes Purchases and Rentals.
✔ Export HD movie same as the original at 20X much faster speed.
✔ Convert M4V to MP4 for widely usage.
✔ Retain 5.1 all subtitles (including CC) after video conversion.
✔ Unlock iTunes movies for non-apple devices.
✔ Keep multi-language audio tracks (including 5.1 AC3 audio track).
Now, you can watch iTunes movies on any devices you want and no need to worry about insufficient space in your mobile phone. You don't have to hold the heavy laptop in bed at night, take your external hard drive here and there in the house, fight for the computer with your loved ones, or rack your brains on how to share iTunes movies with your family...
Tips: M4VGear will offer you a 1 minute free trial which will let you convert one minute of iTunes rentals for free. If you want to unlock the time limitation, please purchase M4VGear. The price now is $44.95, decreasing from original $49.95 by $10.
What is Plex Media Server
Plex Media Server, whose source code was initially forked from XBMC Media Center, is a third party application that helps user manage and play video, photos, music, and podcasts from a local or remote computer. In addition, it integrated channels that provide the user with a growing list of community-driven plug-in for online content including YouTube, Vimeo, TEDTalks, Hulu, Netflix, and CNN video. Plex also provides integration for cloud services including Dropbox, Box, Google Drive, Copy and Bitcasa.
Extra Tips:
If you are an Apple Music subscriber and also want to convert Apple Music and iTunes M4P Audio. Apple Music Converter should be the best choice, which enables you to convert Apple Music tracks to plain MP3, AAC, FLAC and WAV format losslessly at 20X speed, while keeping all the ID tags and metadata.