iTunes Best of 2015 - Top 10 Best iTunes Movies
There are plenty of big films of 2015, such as Jurassic World, Avengers: Age of Ultron, they did gangbusters business in iTunes rentals and purchases. Are you looking for the most popular and best iTunes movies in the year of 2015 to watch and download from iTunes store? Below is a list of the best movies of iTunes in 2015 you can find to purchase or rent for watching on your iPad, iPhone or Apple TV. The article also shows you some tips if you want to enjoy your iTunes purchased or rented movies on non-Apple divices.
2015 Year's Best Movies in iTunes
Best Blockbuster

Inside Out (2015)

Director: Pete Docter
Genre: Kids & Family
Price: $19.99
Rental Price: $4.99
Release Date: June 19, 2015

Top Independent Movie

Amy

Director: Asif Kapadia
Genre: Music Documentaries
Price: $14.99
Rental Price: $4.99
Release Date: July 3, 2015

Top Comedy Movie

Minions

Director: Pierre Coffin & Kyle Balda
Genre: Kids & Family
Price: $19.99
Rental Price: $4.99
Release Date: July 10, 2015

Top Sci-Fi & Fantasy Film

Ant-Man

Director: Peyton Reed
Genre: Action & Adventure
Price: $19.99
Rental Price: $4.99
Release Date: July 17, 2015

Thriller Film

Maze Runner: The Scorch Trials

Director: Wes Ball
Genre: Action & Adventure
Price: $14.99
Rental Price: not available
Release Date: September 18, 2015

Top Drama Movies

The Man from U.N.C.L.E.

Director: Guy Ritchie
Genre: Action & Adventure
Price: $9.99
Rental Price: $3.99
Release Date: August 14, 2015
iTunes Top 10 Movies of 2015
1. Star Wars Digital Collection
2. Big Hero 6
3. American Sniper
4. Inside Out
5. Kingsman: The Secret Service
6. Interstellar
7. Jurassic World
8. Avengers: Age of Ultron
9. The Hunger Games: Mockingjay Part 1
10. Fifty Shades of Grey
Editorial Picks iTunes Movies of 2015

Mad Max: Fury Road
Amy
Inside Out
Dope
Cartel Land
It Follows
The Martian
Me and Earl and the Dying Girl
Room
Paddington
Spy
Straight Outta Compton
Tangerine
Tips: Enjoy Purchased or Rnted iTunes Best Movies on non-Apple Devices
Once you purchase or rent movies from iTunes, you would download and find the iTunes movie on your iTunes library, so that you can watch them on iPhone, iPad or Apple TV. And for iTunes rentals, they will be on your iTunes library for 30 days (other 7 secrets of iTunes rentals). No matter which iTunes movie you buy, you are unable to watch them on non-Apple devices because of Apple FairPlay DRM. It is a pity if you have the best iTunes movie collections and want to enjoy them on the trip with other portable devices like Android smart phone, tablets, game consoles or on big-screen TV.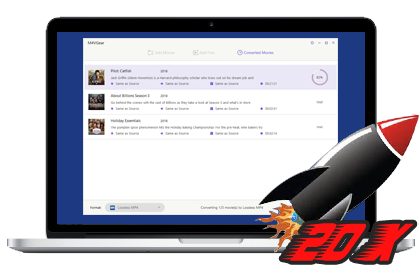 Fortunately, the problem can be easily solved by M4VGear DRM Media Converter. M4VGear is a powerful iTunes M4V Converter which works for both Mac and Windows users. It is able to convert iTunes movies, TV shows, music videos to plain MP4, MOV... formats with lossless quality. Moreover, it removes DRM from purchased and even rented iTunes movies so that you could get the DRM-free version of your favorite and the best iTunes movies without any restriction.
Note: M4VGear can retain all audio tracks and subtitles of the original iTunes movies after conversion, that is, you would get 1:1 copy of the original iTunes movie with M4VGear conversion. Don't hesitate to take a try. You can now purchase the full version at $44.95 ($5 off from $49.95.).